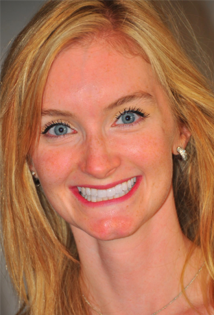 Margo Burette is enjoying her 5th year of outpatient orthopedic physical therapy practice. She earned her Doctorate of Physical Therapy from the University of Oklahoma with advanced studies in exercise and sport science. She completed her undergraduate work at the University of Tulsa, where she graduated Magna Cum Laude with a Bachelors of Science in Exercise and Sport Science. She has training in the c.h. Physical Therapy (SM) and c.h. Personal Training (SM) methods. She plans to further her knowledge of McKenzie/MDT methods with Nick as her mentor.
Margo teaches patients not only how to get better but how to thrive. Many patients may have a reactive relationship with their health and feel helplessly out of control. Her mission is to build an energetic, effective, exercise-based plan of care that empowers patients as active participants. Patients who are partners in their own care take pride in their results and can take their success home with them.
Margo is also an enthusiastic windsurfer, SUP surfer, hiker, equestrian, jogger, disc golfer, and occasionally comes inside to read a good book.