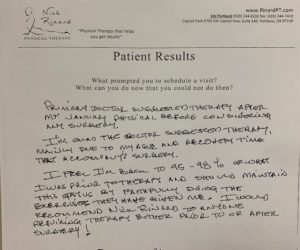 "Primary doctor suggested therapy after my January physical before considering any surgery.
I'm glad the doctor suggested therapy, mainly due to my age and recovery time that accompanies surgery.
I feel I'm back to 95-98% of what I was prior to therapy and should maintain this status by faithfully doing the exercise they have given me.
I would recommend Nick Rinard to anyone requiring physical therapy either prior to or after surgery!"
Edward