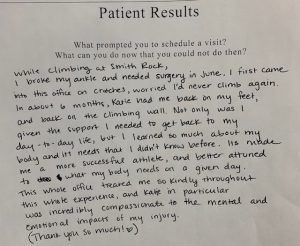 "While climbing at Smith Rock, I broke my ankle and needed surgery in June.
I first came into this office on crutches, worried I'd never climb again.
In about 6 months, Katie had me back on my feet and back on the climbing wall.
Not only was I given the support I needed to get back to my day-to-day life, but I learned so much about my body and its needs that I didn't know before.
It has made me a more successful athlete, and better attuned to what my body needs on a given day.
The whole office treated me so kindly throughout this whole experience, and Katie in particular was incredibly compassionate to the mental and emotional impacts of my injury.
(Thank you so much!)"  
Ali