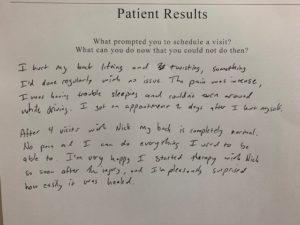 "I hurt my back lifting and twisting, something I'd done regularly with no issues.

The pain was intense, I was having trouble sleeping and couldn't turn around while driving.

I got an appointment 2 days after I hurt myself.

After 4 visits with Nick my back is completely normal.

No pain and I can do everything I used to be able to do.

I'm very happy I started therapy with Nick so soon after the injury, and I'm pleasantly surprised how easily it was healed."
Josh