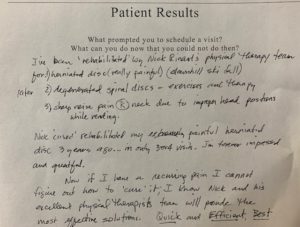 "I 've been 'rehabilitated' by Nick Rinard's physical therapy team for!

1.) herniated disc (really painful) (downhill ski fall) later.
2.) degenerated spinal disks – exercise and therapy.
3.) sharp nerve pain R neck due to improper head position while reading.
(Nick 'cured' rehabilitated my extremely painful herniated disc 3 years ago… in only 3 or 4 visits. I'm forever impressed and grateful.

Now if I have recurring pain I cannot figure out how to 'cure' it, I know Nick and his excellent physical therapist team will provide the most effective solutions.
Quick and Efficient, Best."
Kristine