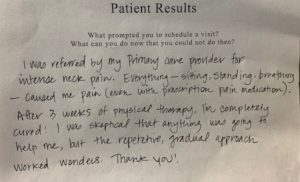 "I was referred by my primary care provider for intense neck pain.
Everything – sitting, standing, breathing – caused me pain (even with prescription pain medications).
After 3 weeks of physical therapy, I'm completely cured!
I was skeptical that anything was going to help me, but the repetitive, gradual approach worked wonders.
Thank you!"
Jaime