LOW BACK PAIN—What you should do while waiting for your first physical therapy appointment…
SITTING: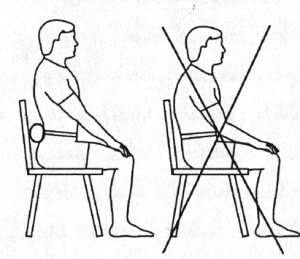 Sit as little as possible.  Standing or lying down are preferable to sitting when in acute low back pain.  If you must sit, sit only in a straight backed chair with good posture.  Avoid couches or soft chairs.  Use a towel roll to support the natural curve of your spine.
BENDING:
Do not bend forwards as in touching your toes when in acute low back pain—even if it feels like you are doing good by  "stretching" the muscles of the low back.  Rather than reaching down to get things, squat down using the legs and keep the back absolutely straight.
LYING:
Try to lie more on your stomach rather than on your back.  Avoid the temptation to lie on your back with the head and knees propped up—this just rounds the back more and places inappropriate stress on injured structures.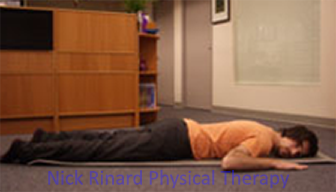 EXERCISES:
You should stay normally active–in other words try not to stay in bed for long periods.  Move around, take walk if you can.  Do not do the knees to chest exercise you may have learned before.  This is an advanced exercise and usually not appropriate for acute conditions.  It is better in most cases to lie on your stomach and work towards supporting yourself on the elbows.
| | |
| --- | --- |
|   |   |
| NO! | YES! |