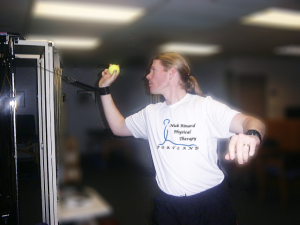 Very interesting clinical presentation today!  The patient had been treated for neck pain here (Nick Rinard Physical Therapy) in the past with good results.  Later, she developed shoulder pain and consulted her MD, who referred her to an orthopedic surgeon.  There were "findings" on MRI and she ended up getting arthroscopic surgery.  She returned to us for physical therapy to rehabilitate after surgery.
No Surgery Needed
Interestingly, she reported that her surgeon was surprised that her rotator cuff tendons were in "good condition" and did not require a repair – he had noticed that during the surgery procedure itself, apparently.  So, physical therapy should be easy in such cases, right?  No big surgical repair to worry about.  
However, 6 weeks after the operation, her shoulder pain was not subsiding as it should have.  Inflammation normally resolves in that amount of time and she should have been strong enough to resume normal office work duties consisting of keyboard and filing.
Finding the True Cause of the Pain
We had to take a closer look at her neck.  It turned out that her neck was referring pain to the shoulder!  In one neck treatment, the shoulder pain was abolished!  The patient probably had had a recurrence of her old neck problem, it referred pain to her shoulder, and neither she, her MD, nor the orthopedic surgeon considered the true cause of the pain…
This is a frequent occurrence here at Nick Rinard Physical Therapy, where we use the Mechanical Diagnosis and Therapy (MDT) system of evaluation and treatment.  Robin McKenzie started this method and it is the best method – and most supported by research – at getting to the true cause of pain.
Save time, money, and maybe avoid surgery!
If you or someone you know is having any problems that could be mechanical, a thorough mechanical assessment should be performed.  In as little as one visit the problem might be identified and solved, saving a lot of time, money, and suffering!  Plus, the patient might avoid unnecessary surgery!